Shows and Events
CURRENT/ RECENT
Art Show GROUNDED, May 10 - 20, 2021
Opening Party - May 13 @ 6 - 8 PM
Selected Past Events
Women's History Month - stop by to view our show CAMP, join the Reception, Talks, Discussion on MARCH 13, 2019. Sign up HERE.
MARCH 12, starting at 1:30 PM:
Workshop "How to Apply to the Artist Visa" - Sign up HERE
Workshop "How to Market Your Art" - Sign up HERE
Art Show TRANSFORMATION - December 2018
September 28, 2018 - Opening: 4th Annual International Exhibition "Show Your World"
August 10, 2018 - Art Show "Environmental Food Chain"
Public Events:
Reception/Party - August 10, 6:30 pm - please RSVP
Networking Lunch for Artists & Art Enthusiasts - August 11, 2:00 pm - please RSVP
March 2018
The All Women Art Show and Discussion "I Care"
NEW YORK, NY. - On March 29, 2018 at 6.30 pm, RE: ARTISTE International Art Organization and The Espejo Organization for the Arts (EOarts) present
"I Care: The All Women Art Show and Discussion", the art event hosted at The Wall Gallery, which will offer a platform for self-identified female artists and women of all occupations to connect and speak up.
DECEMBER 8, 7:30 PM - Gallery MC
Performance // Concert "SHOW YOUR WORLD"
Collaboration of RE:ARTISTE and Lyric Seasons
*Video Excerpts: digital art by Yu Cao and Leah Miriam Cooper for the music numbers performed by soprano Zoya Gramagin
Third International Juried Exhibition
November 26 - December 9, 2017 || GALLERY MC

October 11 - 26, 2017: Gallery MC, 545 West 52 St, New York, NY 10019
Opening Event: October 13, 6:30 PM - 9 PM - RSVP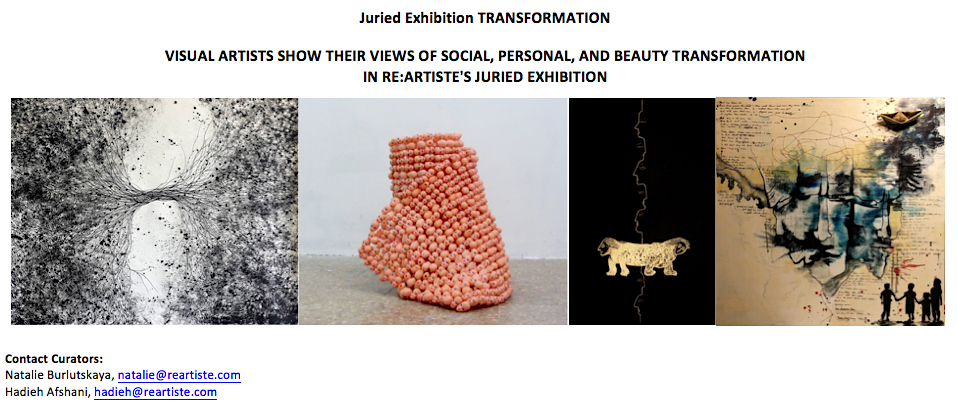 Art show "Transformation" is an artistic depiction of three aspects of transformation: Social, Personal, and Beauty. Participating artists have been selected by the Jury team consisted of curators, artists, educators (for more details visit www.reartiste.com). EXHIBITION PROGRAM: - October 13: Opening Event - Wine Reception - meet the exhibiting artists, 6:30 pm – 9 pm. Musical Guest: JunYi Chow, an award winning composer and musician.
- October 14: Artist talks, 12 pm – 2 pm RSVP
- October 18: 6:30 pm – 8:30 pm – Workshop for artists on artist websites, tips and tricks; provided by Leah Miriam Cooper RSVP
- October 20: individual consultations, 11 am – 3 pm || e-mail info@reartiste.com
- October 23: Drawing Workshop, "Confident Lines", 7 pm - 9 pm; conducted by Hadieh Afshani RSVP Exhibiting artists: Poshya Ahmed, Andre Feiler, Lisa Cirenza, Joan Lobis Brown, Alessandra Sequeira, Mana Salsali, JJ Wolfe, Eunjin Kim, Rochana Dubey, Ana Jovanovska, Sharona Efrat, Camille Van De Velde, Jamie Siragusa, Yelena Lezhen, Henriette Roka Aardal, Joanna Mercuria Czerwinska, Bronwyn Roe, Leslie Tucker, Shi Mei, David Levy, Ryota Matsumoto, Christiana Updegraff, Kyungjin Kim, Carol Scavotto, Karen Mainenti, Alain Licari, Keith Thomson, Coriander Focus, Ellen Rosenberg, Jana Curcio, Nan Xu, Blair Conner, Shosh Cohen, Kate Goltseva, Courtney Treglia, Alina Zalucki Guest Artists: Sheryl Haler, Jayanthi Moorthy, Kay Kane, Maureen Burns Bowie, T. Lawrence Wheatman Curators: Natalie Burlutskaya, Hadieh Afshani || RE:ARTISTE International Art Organization The entries were evaluated by Maureen Burns Bowie, Jayanthi Moorthy, Arlene Rush, Julie Fragar, Kay Kane, Sheryl Haler, T. Lawrence Wheatman
The Persephone Project: Art Residency on Governors Island, 2017
The Persephone Project is a site-specific theatrical installation created by visual and theatre artists from Daughters of Troy. The project excavates the layers of the Persephone myth to explore duality, desire, and death in the stories we tell and the secrets we keep. The project was selected by Barton Booth for a week long residency on Governors Island.
Artistic Director Aubrey Saverino & Artistic Producer Brooke M. Haney worked with Art Curator Natalie Burlutskaya from RE:ARTISTE to select fourteen visual artists from all over the world including Iran, Israel, Russia, Ukraine, Macedonia, Greece and China. Their work elucidates some piece of the Persephone myth and includes photography, sculpture, painting, projections, installations, and performance art. We then brought in professional theatre artists, as well as an apprentice company of young women, who devised work inspired by both the artwork and the myth that included dance, music, storytelling, and participatory one-on-one experiences with audience members.
Presentations of the work-in-progress and an exhibition of artwork inspired by the theme were held on Saturday, Sept 2 & Sunday, Sept 3 in House 8A in Nolan Park on Governors Island. The project is still currently in development.
FEBRUARY 2017: Opening of the Show, "Let Me Go, Father"
Inspired by Akira Kurosawa's movie "Yojimbo". The name of the show is an opening line from this movie revealing a son's desire to escape his small town's struggle between two rival gangs. Inspired by the movie, five artists explore the theme of gender, cultural appropriation, politics, and bipartisan government which pressure individuals to maneuver pre-existing systems.
The interview with the participating artist, Mensur Bojda, is HERE.
NOVEMBER 10 - 22, 2016: SHOW YOUR WORLD, 2nd International Juried Exhibition
OPENING: November 11, 6:30 PM
NOVEMBER 16: Shirley Siegal and Hadieh Afshani
ARTIST TALK: Questions You Were Too Embarrassed to Ask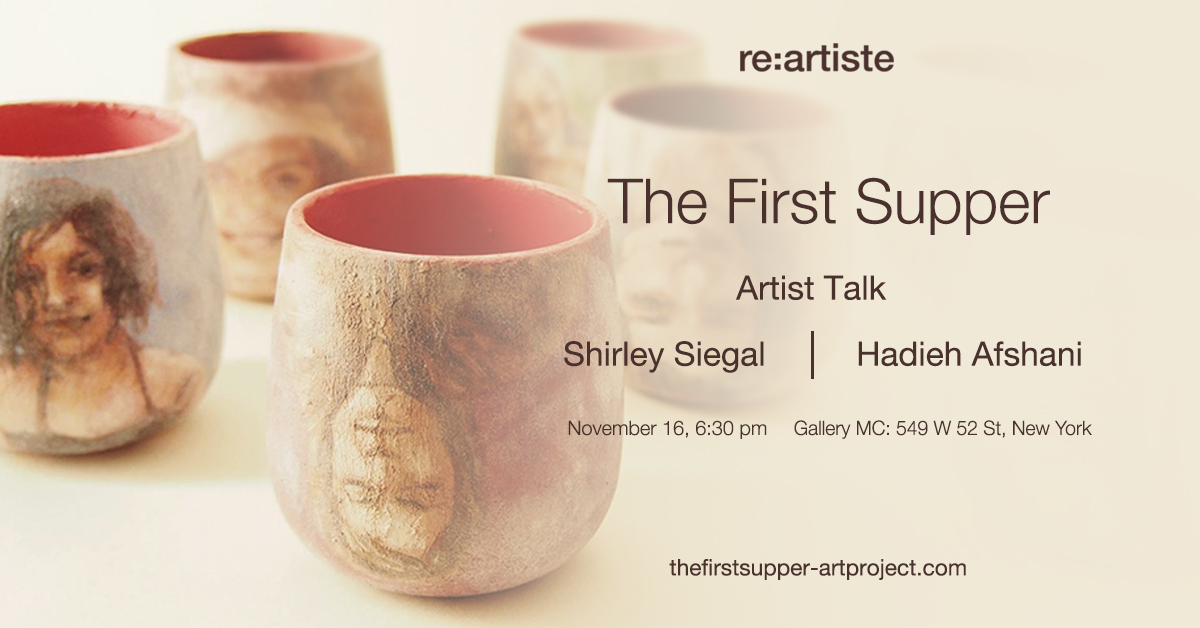 NOVEMBER 21: DAUGHTERS of TROY, Performance at the Dixon Place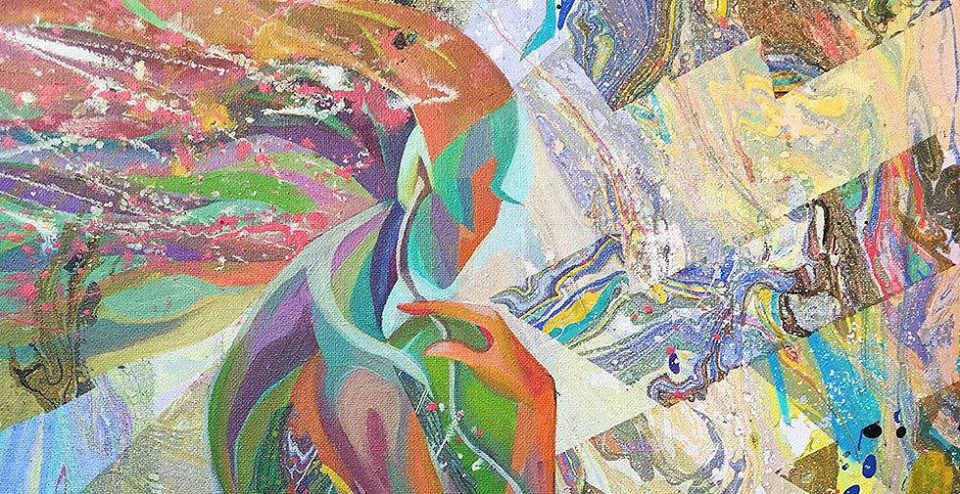 Artist Residency, Governors Island: DAUGHTERS OF TROY
A week of art residency on Governors Island, collaborative project including performances and visual art
The artist residency at Building 19B, Nolan Park on Governors Island is open for public on September 3rd and 4th. Performances: 12 pm, 1 pm, 3 pm. "Daughters of Troy" is a collaboration between theatre and visual artists led by Aubrey Saverino in partnership with RE:ARTISTE. The project uses classical text, visual art, music, dance and current events to deconstruct female archetypes through the lens of the Trojan War.
Sign up HERE: free performances and art show.
Photography Show NAKED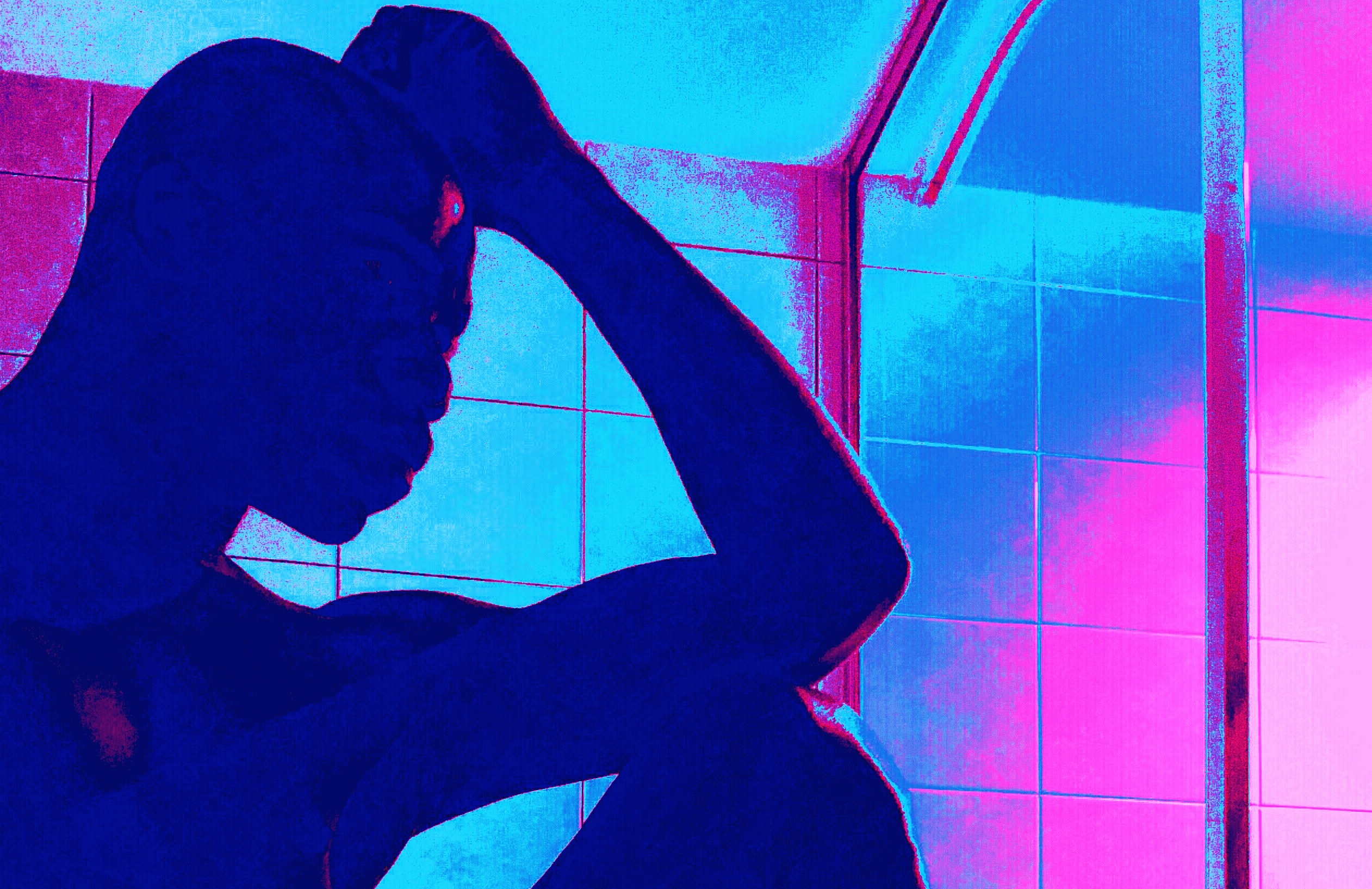 The hottest show of the year!
"Art can never exist without naked beauty displayed."- William Blake Human nudity can mean many things: from being extremely vulnerable to extremely bold. Nudity can be perceived as weakness or power. What can the nude human body tell us? Visit the show to see how the artists expressed the power of body language.
Finalists and Honorable Mentions of the Juried Photography Competition "NAKED" present their artwork: the show is on view August 18 - August 24, 2016. Opening: August 18, 6:30 PM. The Juror: T. Lawrence Wheatman, NYU Professor of Photography, curator, exhibiting artist, producer, Education Chair at Soho Photo Gallery. The show is organized and curated by RE:ARTISTE International Art Organization. We thank Soho Photo Gallery for the generous support of our initiatives and ideas! Artists - solo shows: Rodney J.Woodland Gaspar Marquez Alexey Wind Andreas Theologitis Brian Hiltz Diane Kaye Edward Lee Mara Zaslove Annie Gonzalez Savannah Wishart Artists - Honorable Mentions: Boriz Kraizman, Ekaterina Bykhovskaya, Ekaterina Kiryanova, Gisella Trapani, Kat DiStefano, Nicolas De Cesare, Oliver Gingrich, Rosa Polin, Violeta Brown, Vlad Mikhel, Marek Dudek. *Cover Image: Rodney J. Woodland (finalist), "Self Photography #4" [detail]. Rodney J. Woodland: "I'm a freelance Visual Artist and Nude Figure Model. I pose for many of my own self-photography sessions. Over the years I have created quite an interesting and avant-garde nude art portfolio with imagery that I would be proud to share with the world. I'm also excited about color in my work and pride myself on creating work with an emphasis on shadows and different lighting effects."
WHEN:

Thursday, August 18, 2016 from 6:30 PM to 9:00 PM (EDT)

WHERE:

Soho Photo Gallery - 15 White Street, New York, NY 10013
"DOES THE 'FEMALE ART' EXIST?" Artist Talk and Discussion, JUNE 15, 7 PM
Soho Photo Gallery: 15 White Street, New York, NY 10013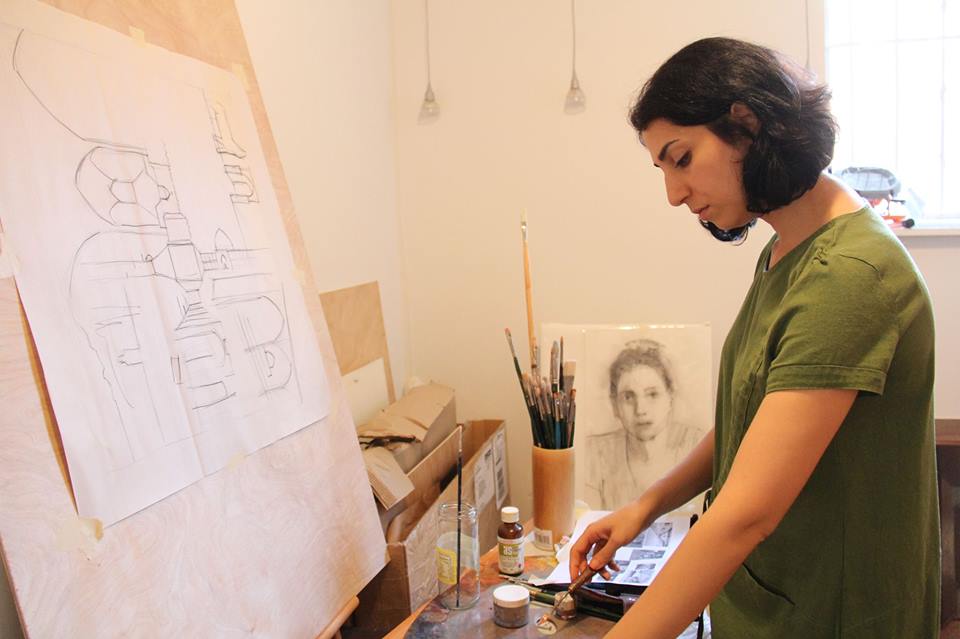 What is 'Feminist Art'? What is 'Female Art'? Do we usually differentiate which artwork or photograph was created by a man or by a woman? Let's talk about it and find out what women can do for the art world and the world at large.
Join this discussion on June 15 - share your thoughts about the role of women in arts. Find out about the upcoming art project you may want to participate.
Meet Hadieh Afshani, an Iranian-Australian painter who has recently moved to the USA. Hadieh will share her multi-cultural experience and will lead the talk about the current project, "The First Supper", where visual art and politics collide. You may want to participate in it, too.
Artist/Speaker:
Hadieh Afshani,
award-winning painter (Iran-Australia-USA).
Panelist/Speaker:
Michael Nicholas
, an interdisciplinary artist with over 30 years experience creating in multiple mediums and disciplines including visual art, writing, music, and theater." Find out more about Michael Nicholas HERE.
Moderator:
Natalie Burlutskaya
, curator at
RE:ARTISTE
International Art Organization
SELECTED EVENTS and WORKSHOPS
ASK THE LAWYER: Business Oriented Meetup for Creatives and Creative Entrepreneurs
May 2016
This is a business oriented workshop with a lawyer. If you are interested in copywriting and registering, establishing your own entity, applying for the artist- and entrepreneur- type visa, or other themes connected with creative and business industries, this meetup is for you.
Speaker: Ekaterina Mouratova, Esq.
Ms. Mouratova is a founder of The Law Firm of Ekaterina Mouratova, PLLC, The Startup Law Center and author of the book Business Law for Entrepreneurs. A Legal Guide to Doing Business in the United States. She represents individuals and companies in a broad range of industries, including technology, art, science, sales, services, e-commerce, financial, entertainment and many others. Ekaterina focuses her practice on business/corporate law, intellectual property and immigration. The Law Firm of Ekaterina Mouratova, PLLC, is a new generation law firm with result-driven and value generating approach. Forward-looking and proactively involved the Firm offers efficient, expeditious and integral legal services to individuals and business entities in all matters of business/corporate, intellectual property, securities regulations, and immigration matters. http://www.mouratovalawfirm.com
Limited engagement (up to 14 people).
Chinese Art Night: Ink Painting Class with DONGZE HUO and MIAO ZHAO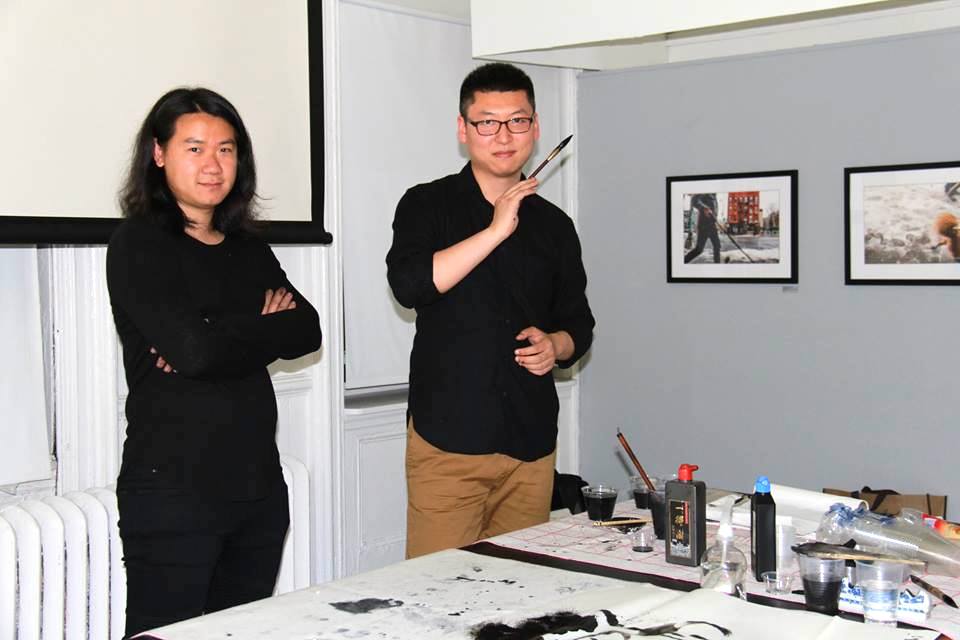 Meeting up in Downtown for trying Chinese Ink Painting! You don't need to be an artist to take part in our Chinese Art Night. Join us for the artist talk & workshop provided by Dongze Huo, an exhibiting artist and finalist of the "Show Your World" international art competition.
Dongze Huo will conduct the workshop in collaboration with Chinese contemporary artist, Miao Zhao. Chinese brush painting is an ancient art that continues to fascinate contemporary artists. Simple beauty, harmony, serenity and tranquility may be discovered in a symbol, a bird, or a landscape.
Ebru Art Classes
Have you heard of water-painting, or water-marbling? You don't have to be a pro to create an awesome masterpiece. All materials are provided. Get inspired and energized by the relaxing atmosphere of a creative space. Enjoy the story of Ebru and the live demonstration by the artist Kate Goltseva. As a result of the art class, take home an amazing piece of art made by yourself. What is Ebru? It's an ancient Turkish art therapy technique when you literally paint on water: the special solution, acrylic and ceramic paints help you literally draw and paint on water. Magic! About the instructor, Kate Goltseva: Kate Goltseva is an interdisciplinary artist who is exploring feelings, human behavior, and expression. Kate's art is about raw materials and emotions we are made of: love, longing, compassion, hesitation... It is about an endless journey of the Soul, struggling for peace inside.
Video Marketing for Creatives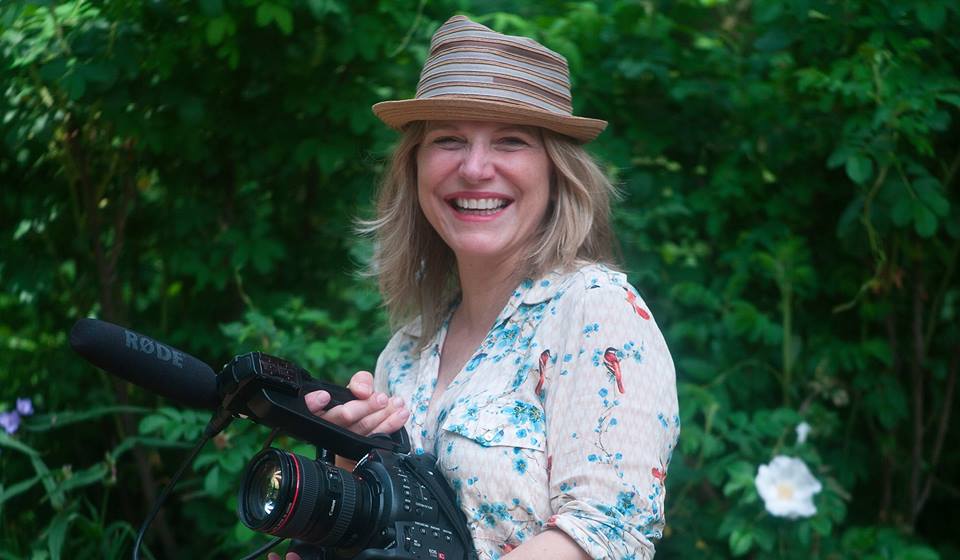 Learn how to look good using webcam: posture, computer placement, lighting, sound. Make video marketing your best tool. What is Video Marketing and Why Do You Need It? Video marketing is, hands down, the most effective way for artists to get the attention they deserve. Just like artists' creations, video engages the senses and, since it's a visual medium, it gives artists the opportunity to show rather than tell others what they do. At this interactive workshop you will learn why story based video marketing is such an important tool for artists to get the attention and make the money they deserve. Instructor: Catherine Stratton is an award­ winning filmmaker and owner of Stratton Films, a production company specializing in online marketing videos for artists and creative entrepreneurs in order to help them build their businesses and get the attention they deserve. Her videos have been commissioned by the online marketplace, Etsy and her Independent work has screened at The National Gallery of Art in Washington, D.C. Catherine lives a happy life with two awesome kids, a slightly neurotic dog and a great view of New York City.
Creative Singles' Gallery Night Out
Tired of bar hopping? Let's meet up at the gallery! Art is the best conversation starter and a great power to connect people.
It's not easy to find your circle in a big city. You are invited to enjoy the evening with those who love art, photography, a good conversation with the like-minded. Stop by Soho Photo Gallery (15 White Street, New York, NY 10013) to view the coolest photo show "Krappy Kamera": meet new people, chat over a glass of wine.

February 2016.
Bohemian Night in Tribeca.
RE:ARTISTE continues collaborative projects with artists of various fields.
We always try to introduce different forms of art to art enthusiasts.
On February 26 we are inviting the guests to Soho Photo Gallery for the Night of Songs and Italian Opera Scenes. The gallery environment adds a bohemian, uncommon twist to an otherwise classical performance. The audience benefits from a new creative experience, where all spectators get a front row seat. Enjoy visual art on the walls, immerse yourself in the classical music at the artistic setting of the modern gallery.
The Artist Talk and Wine Reception will follow the performance.
Singers: Zoya Gramagin, soprano; Mikhail Urusov, tenor.
Piano: Marina Makarova.
Our first collaborative event with the Lyric Seasons was in January 2016 at Gallery MC, New York, when the artists performed at the "Show Your World" International Art Event.
Interactive Workshop: Aromas as a Pathway to Creativity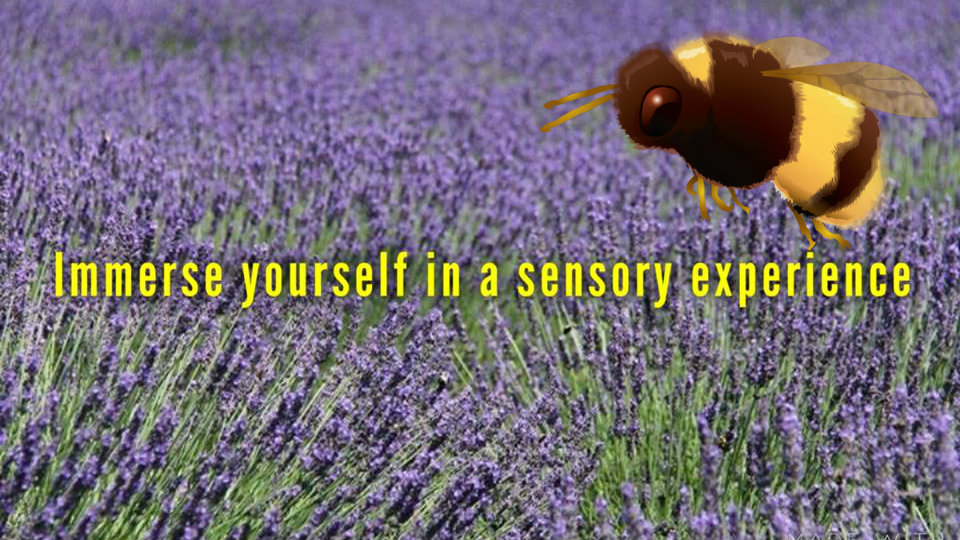 See, smell, touch and taste in this interactive workshop. Experience for yourself the enchantment, inspiration and creativity of essential aromas. Mother Nature is an unrivaled expert when it comes to Creativity. Meet Dr. Paul Goddard, Clinical Psychologist in the creative atmosphere of the Soho Photo Gallery. Immerse yourself in a sensory experience. Come to better understand the power of your amazing sense of smell. Perhaps you remember the aroma of fresh baked bread or chocolate chip cookies fresh from the oven. Learn about gifts of the earth that awaken creativity: savor herbal tea, experience essential oils, embrace aromatherapy techniques that many find indispensable to remain grounded and creative amidst the commotion of city life.
Which aromas energize? Increase focus? Ease stress? Arouse creativity? Mother Nature loves Creativity - she inspires us with so many sights, sounds, smells, flavors and sensations. Our ability to breathe and smell is profoundly evocative. Fragrance is a subtle but very powerful pathway to creativity. Even long ago, the geniuses knew about the power of fragrances. Leonardo da Vinci was said to be passionate about essential oils, and was famed for surrounding himself with perfumes. Even Shakespeare's father was a glover who was known to use extensive amounts of essential oils. Could this have been a contributing factor to the creation of 39 plays, 154 sonnets and countless poems?
Dr. Goddard moves beyond theory and invites you to directly experience the power of essential oils to inspire creativity, enhance motivation and ease toxic stress.
January 2016.

January 15, 6 pm
Opening event: "Show Your World".
This art exhibition celebrates the results of the "Show Your World" International Art Competition: artists from 43 countries took part in the art contest. Their artworks are diverse in media and assumptions as much as the vision of hundreds of artists can vary, and thus is absolutely unique.
This is not a conventional art show – this is also an international social event inviting people to participate in artist talks, workshops, casual hangouts while enjoying art from all over the globe.
Become part of the international art community of RE:ARTISTE, come celebrate art with us on January 15, 2016.
January 16, 1pm
Sketch, Sip Wine and Produce Your Own Drawing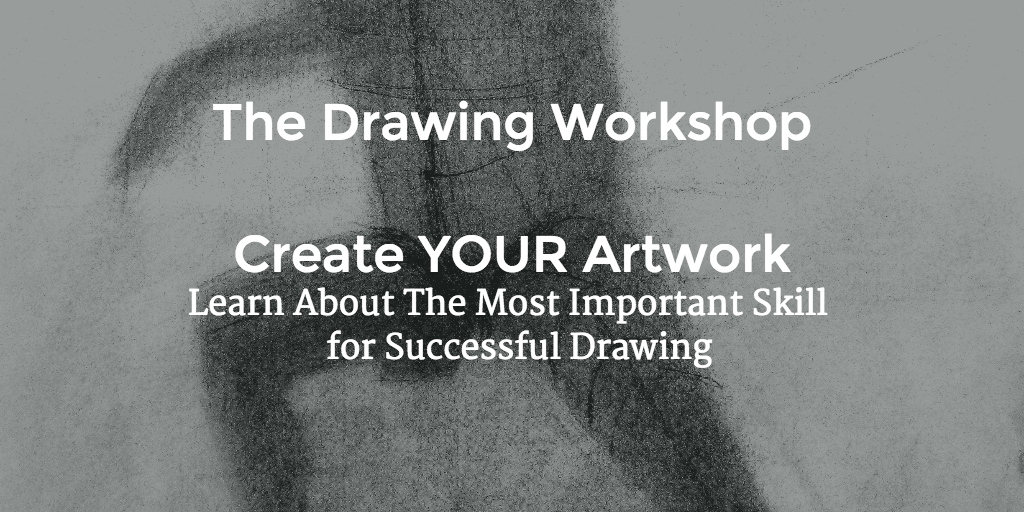 Do you know which one very important lesson is often get missed in art classes? That is the skill of producing successful two dimensional design by learning the basics of drawing from life and elements of design.
At this workshop, produce at least one piece of finished work and several quick sketches. Learn the skill that is based on the method that master artists through the art history.
Sign up to practice the first and the most important step to achieve successful Drawing and Design!
Workshop Fee: $20.00 - socialize, sip some wine, make your own artwork.
This workshop is part of our big art event, "Show Your World", with the Opening on January 15, 6 PM, at Gallery MC.
Instructor: exhibiting artist and educator, Hadieh Afshani. Finalist of the "Show Your World" International Art Competition. Hadieh Afshani is an active fine artist who did her undergraduate study in Fine Arts (Painting) in her hometown, Tehran, and finished her M.A in Queensland College of Arts- Griffith University in Brisbane, Australia. In 2009, Hadieh began working as a lecturer and tutor in QCA teaching Life Drawing, Drawing and Visual Arts and Designs courses for Fine Art, Graphic Design and Animation departments. She has also been an art instructor for different private galleries and art institutes around Australia. Hadieh Afshani has been a finalist and a winner of numerous national and international art awards and competitions inside and outside of Australia. Recently she is working and exhibiting her works in the United States of America. Hadieh is a representational artist. She practiced and learned the knowledge of old masters by going to different artists art studio and attending different classes and workshops around the world. Grab with you for the workshop - Material List: • A3 or A4 sketchbook (A3 is preferred or even bigger if you can hold it while you sitting) • 12 inches ruler • Willow or vine charcoal (thin and thick/extra thick) and/or 4B pencil and a piece of Graphite. • Tissue paper or paper towel • Eraser
January 16, 2016, 3pm-5pm
Modern Documentary Art Photography and Video Art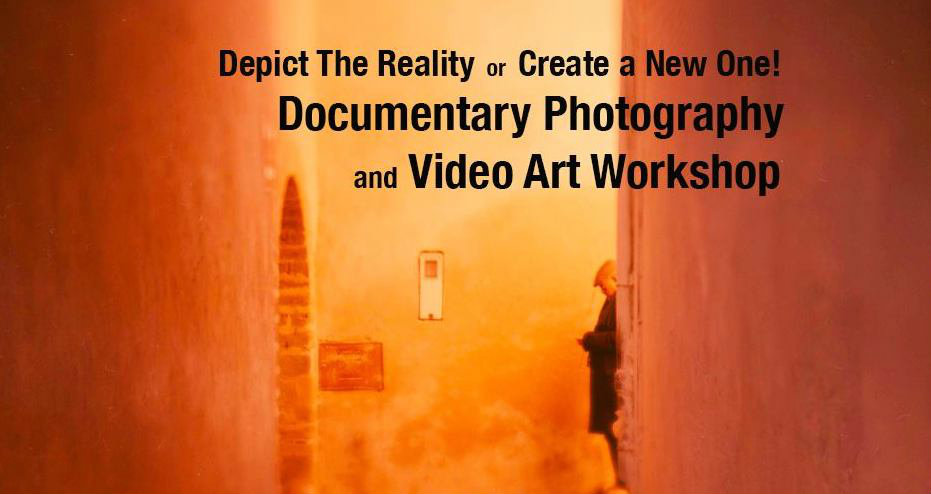 Everybody with a smart phone is a photographer now. But not everybody is a GOOD photographer. What do you need to be really, really good at depicting or creating your own reality with a camera? At this workshop get backstage at the photo and video art production. Meet the artists Kirill Ovchinnikov and Evgenia Killikh and learn how to use a field camera, how to take pictures and make a footage in a best way. Watch the examples of the video art created by Kirill Ovchinnikov and Evgenia Killikh, the instructors of this workshop.
The workshop fee: $20.00
This event is part of the "Show Your World" exhibition - create your own world with the help of a camera and Professionals!
About the Instructors:
Kirill Ovchinnikov is a renowned art photographer, finalist of the international art competition, "Show Your World". He has been shooting for "Elle", "Interior+Design", "Esquire", "Vogue", "Forbes", and many other popular covers. Besides, Kirill Ovchinnikov is working on his art projects, photo and video, - his works have been shown at numerous exhibits and in museums. Evgenia Killikh is a documentary film director, journalist, having worked for the Cosmopolitan and other glossy magazines, hosted her own TV-show about Fashion and Style. Recently, Evgenia presented her own documentary, "Agar-Agar. Grass from the Ocean" at the Amsterdam Film Festival.
January 17, 1pm
The Ebru Workshop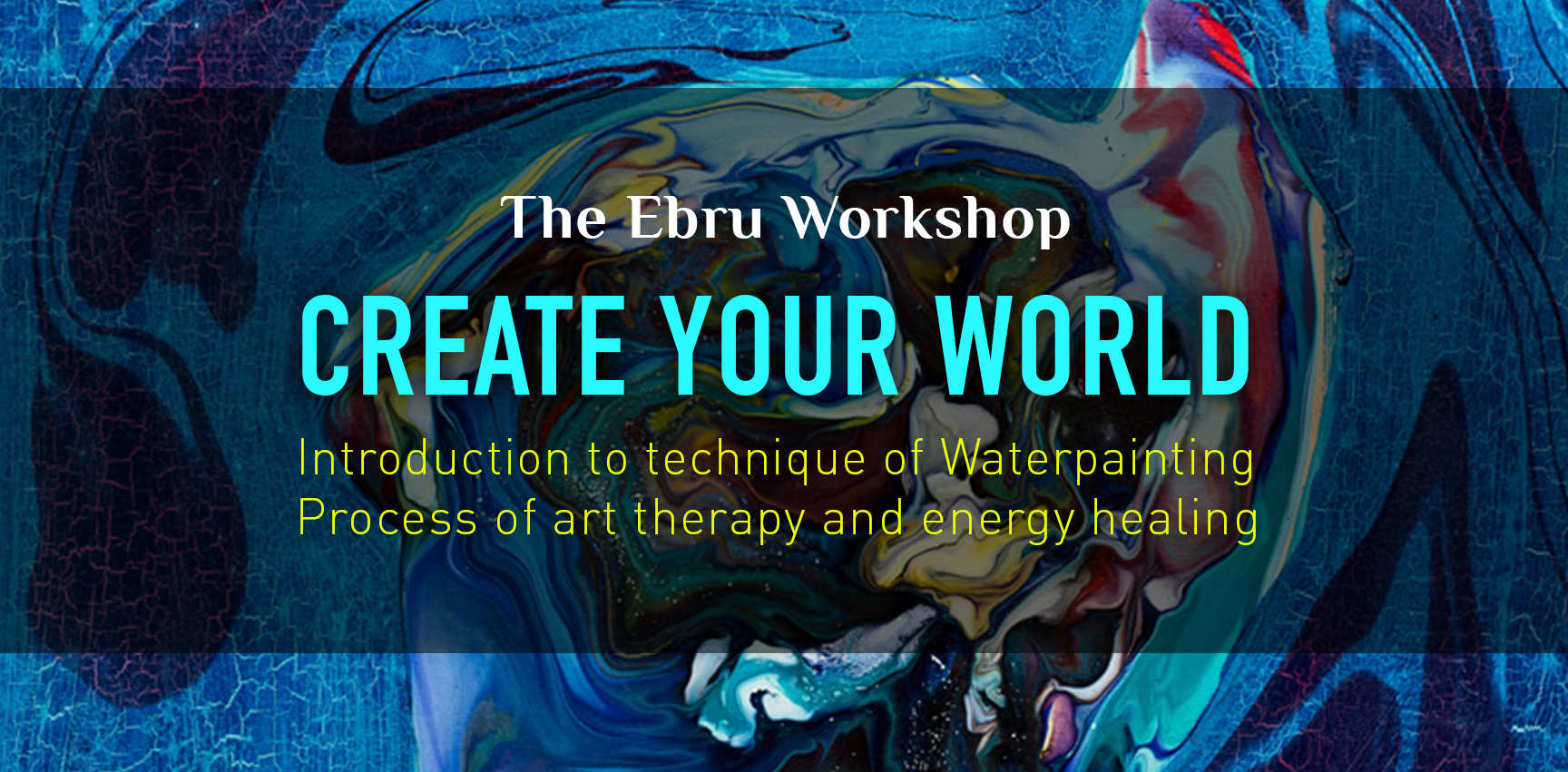 At our workshop learn and practice the magical art of Ebru using all provided materials, paint, and original ebru marbling supplies. Get inspired and energized by the relaxing atmosphere of a creative space. Enjoy the story of Ebru and the live demonstration by artist and graphic designer, Kate Goltseva.
This workshop is part of our bigger art event, "Show Your World": create your own world with the Ebru technique!
Those participants who want to practice with the instructor and CREATE THEIR OWN pieces of art should register for a paid attendance, as we have a limited 5-people workplace and art supplies. Fee: $40.00 - as a result of the workshop, take home an amazing piece of art made by yourself. The workshop if free for those who want to enjoy the demonstration, music, and wine.
About the instructor, Kate Goltseva:
Kate Goltseva is an interdisciplinary artist who is exploring feelings, human behavior, and expression. Kate's art is about raw materials and emotions we are made of: love, longing, compassion, hesitation... It is about an endless journey of the Soul, struggling for peace inside. www.reartiste.com
Book your work station - create your own ebru art piece. Submit the registration form below:
Painting on stones? It's possible! Learn from the master, Shirley Siegal.
January 17, 3 pm - 5 pm, Gallery MC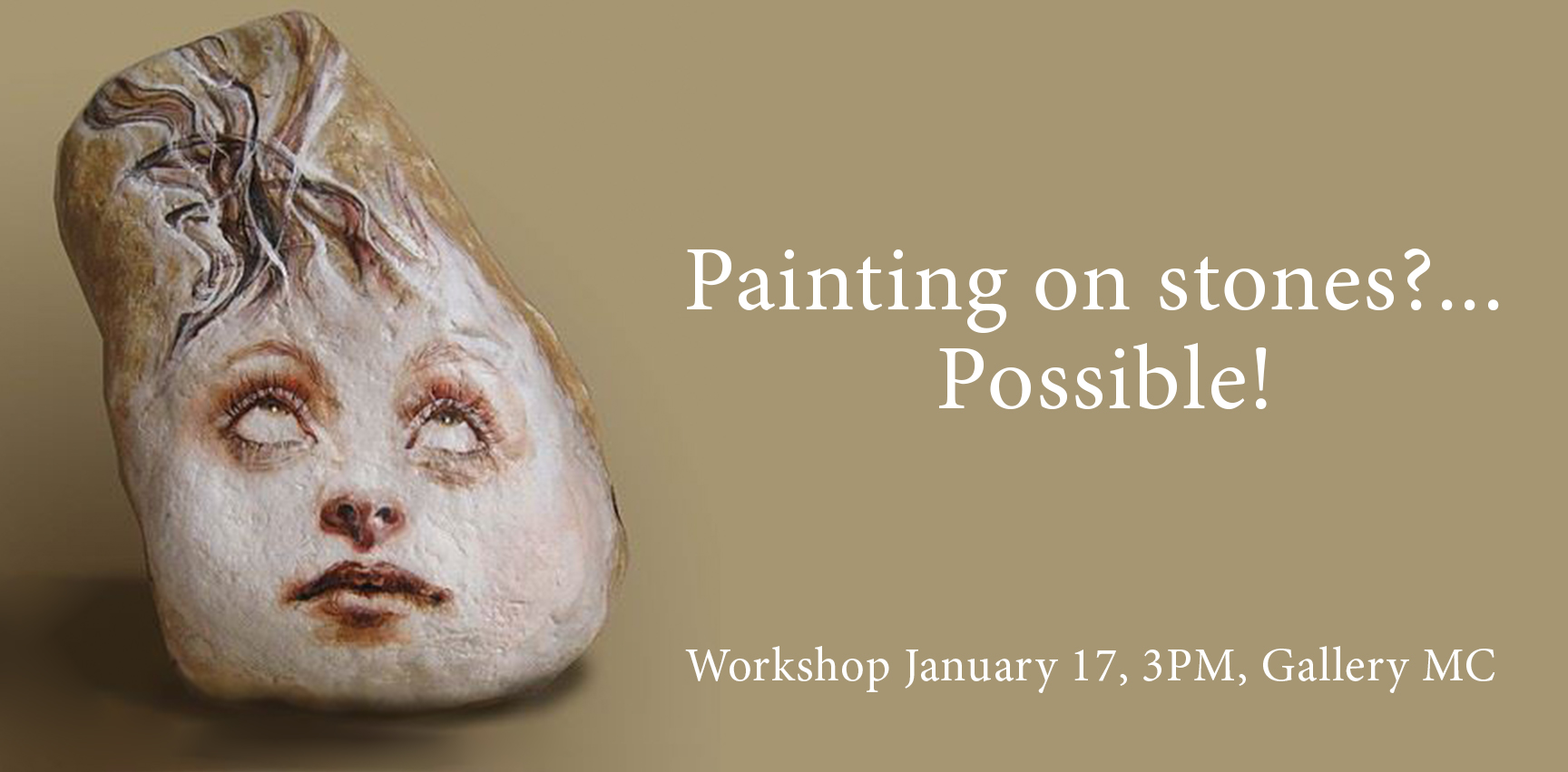 A renowned artist from Israel, Shirley Siegal, is a painter and educator. She is also a Finalist of the international art competition, "Show Your World".
To make art, Shirley Siegal uses various media including oil on canvas or board, watercolor, acrylic on stone, charcoal, sepia and pencils. At this workshop, socialize, sip wine with us, and rock your painting - take home your own unique artwork on a stone!
Shirley Siegal will present a technique of stone painting and teach you how to do it. She is a professional lecturer and a very inspired, spiritual artist.
If you want to give it a try, bring the pebble/stone you like, the acrylic paint, and your favorite brush. If you want to take this class more seriously, there is a full list of possible materials you can bring: http://www.meetup.com/Art-Terrace-Artists-Art-Professionals-networking-NYC/events/227915925/ The fee to take this