Jayanthi Moorthy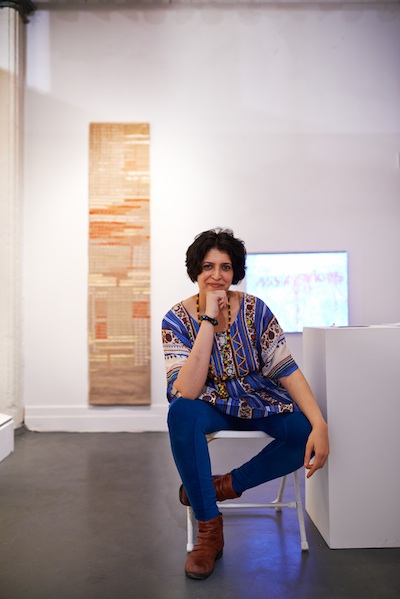 Jayanthi Moorthy is an American multi-media artist who draws inspiration from Indian culture and its age-old religious and community practices. Along with traditional tools and materials, Moorthy uses ephemeral materials in her art. The impermanence of such media as sand, spices, flour reflects the transitory nature of material existence — a core Hindu belief.
Moorthy works both on the canvas and on the floor, and they together become installations that provide two perspectives for self-reflection.
On the floor, Jayanthi works with materials such as rice flour, sand, and spices, and her artistic expression takes the form of a daily ritual. She turns into a performer drawing inspiration from her core spiritual beliefs. Jayanthi works with traditional Indian tools and new tools that she designs. Such ephemeral art is site-specific and is recreated every day or for a special event.
Jayanthi Moorthy's artwork invites dialogues on the interplay between culture, religion and the self. They endlessly explore questions on impermanence, cultural identity and personal qualities such as love, loss, and inner-strength.
When Jayanthi Moorthy works on the canvas, she paints using permanent materials like acrylic, oil pastels and mixed media. Textures are an integral part of the image and are created using tools from everyday life like a comb, a ruler or a stick. They come from either combing the wet paint; making paper collages or creating 3D-like projections by squeezing out blobs of paint into linear lines. The canvases hold luminous colors of red, yellow, orange and blue and are mostly on long un-stretched pieces of cloth or paper that hang vertically or lay horizontally merging with the art on the floor.
SELECTED SOLO SHOWS
2014 DUMBO Arts Festival, New York. Installation, "Assumptions".
A.I.R Gallery, Brooklyn, NY. "Assumptions".
2012 Jacques Marchais Museum of Tibetan Art, Staten Island, NY. The Threads That Bind - an outdoor art installation
2010 Sanskriti Pratishthan, New Delhi, India. Ceremonial Lines I
2009 Kirkland Art Gallery, New York, NY. Kriya
2003 Lalitha Kala Academy of Arts, Kochi, India. Emerald

SELECTED GROUP EXHIBITIONS
2015 A.I.R. Gallery, Governor's Island, NY. Group Show If these walls...
2014 A.I.R. Gallery, Governor's Island, NY. If these walls…
2013 A.I.R Gallery, Brooklyn, NY. Wish You Were Here 12
GE Cultural Art Gallery, Stamford, CT. GE 2013 Asian Awareness Cultural Art Exhibit
Queens College Art Center, Flushing, NY. Namaste: The Year of India
2012 The Bogart Salon, Brooklyn, NY. Intimate Planet
Grady Alexis Gallery, New York, NY. Women's Work II curated by Andrea Arroyo
Crossing Art Gallery, Queens, NY; Art6, Richmond, Virginia; Erasing Borders Exhibition of Contemporary
Indian Art of the Diaspora 2012, a year long travelling exhibit in the US
F & N Gallery, Philadelphia, PA
2011 Judson Memorial Church, New York, NY. Sacred Spaces: A Slideluck Potshow
A.I.R Gallery, Brooklyn, NY. Wish You Were Here 10
Sylvia Wald And Po Kim Gallery, New York, NY
Phyllis Harriman Mason Gallery, New York, NY. The Red Dot Show
Riverside Public Library, New York, NY. Ev(e)olution
2004 Le Méridien Art Gallery, Kochi, India

AWARDS AND RESIDENCIES
2013-2014 Fellowship from A.I.R Gallery, Brooklyn, NY
2012 Award from the Leeway Foundation for the best in show at the F & N Gallery, Philadelphia, PA
2010 Artist residency in Sanskriti Pratishthan, New Delhi, India
There are no products listed under this category.